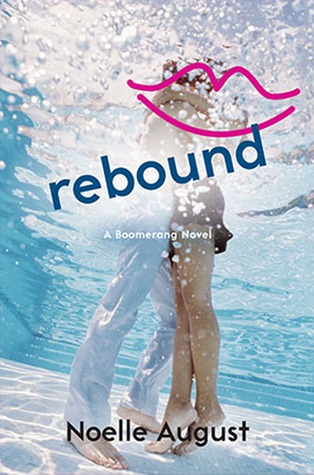 Title:
Rebound
Author:
Noelle August
Publisher:
William Morrow Paperbacks
Release Date:
February 10, 2015
Goodreads
Hooking up is only the beginning of the fun in this sexy and irresistible second installment of the thrilling New Adult series, Boomerang.

Adam Blackwood has it all. At twenty-two, he's fabulously wealthy, Ryan Gosling-hot and at the top of the heap in the business world. His life is perfect, until a scandal from his past resurfaces and knocks the tech wunderkind down, throwing his company, Boomerang, a hook-up site for millennials, into chaos.
Three years ago, Adam married his high school love—and then lost her in a tragic accident. Now, the heartbreak and guilt he's tried to bury with work and women begins to take over his life.

Alison Quick, the twenty-one-year-old daughter of a business tycoon—and the very ex-girlfriend of Boomerang's former intern, Ethan—has a problem of her own. She's got one chance to prove to her father that she deserves a place in his empire by grabbing control of Boomerang and taking Adam down.
But as Alison moves in on him, armed with a cadre of lawyers and accountants, she discovers there's much more to Adam and Boomerang than meets the eye. Will earning her father's approval come at the price of losing her first real love? It appears so, unless Adam can forgive her for wrecking his life and trying to steal his livelihood. But Alison hopes that old adage is right. Maybe love can conquer all.
THOUGHTS:
Boomerang employees sure do have a knack for awkward dating situations. Seriously. In the first book,
Boomerang
, Mia and Ethan hook up one drunken night only to discover the next morning that they would basically be competing with each other for a job. The same thing pretty much happens to Alison and Adam, our main characters - they meet in a Halloween costume party, are about to hook up... only to discover that they'll be working together for the next few weeks. Here in
Rebound
, however, the stakes are higher. Alison and Adam, our main characters, are essentially fighting over 20 million dollars - Alison has to find out for her father whether or not Boomerang is a worthwhile investment venture, and Adam has to convince Alison and her father that he and his company deserve the money. Not that complicated, really, but the attraction between Alison and Adam is NOT cooling down any time soon...
I loved
Boomerang
and its male MC Ethan so much that a part for me didn't really want to read
Rebound
because of Alison. From what I know of Alison from
Boomerang
, I did not like her. At all. She treated Ethan so horribly, and she seemed like your quintessential ice queen. She definitely did not seem like a character I can like, and I have no idea how August can make me root for her after everything that she has done. While beginning this book, I was so prepared to continue to dislike her! On the other side of the spectrum, Adam wasn't really a character that I wanted to read about either. I didn't feel that strongly against him just like I did with Alison, but I don't know... nothing about him piqued my interest. I didn't think that there was a story there - he seemed like your typical eccentric genius - not ordinary, but not extraordinary either.
Oh how wrong I was. It turns out that I did not know both Alison and Adam after all. They are so, so different from how I initially perceived them through the little focus they received in
Boomerang!
I was so prepared to continue hating Alison, but that did not happen. I didn't think it possible, but August made me adore Alison! Heck, I actually consider Alison's character development the strongest aspect of
Rebound
. She may have made terrible choices in the past, but she's aware that there are consequences that she has to face, and she's facing them head on. August also carefully explored Alison's character to show us just
why
she made those choices and those decisions, and while I would never excuse the fact that she cheated on Ethan, I kind of understand why she did. Also, I like how she owned up to it, and made no excuses for what she did. She made mistakes, she's sorry, but she's also ready to move past them. Alison has matured so much from what we know of her from Ethan and the first book, and every single thing I discovered about her (like her affinity for horses, and her friendship with Paolo), I loved.
And now... let's talk about Adam. Adam Adam Adam. Well... one thing is for sure - he is definitely NOT a boring character. There is so much more to him than that eccentric boss we saw in
Boomerang
, and you would be glad to know that August peels off his layers one by one. Off the bat, I love that he put so much work and effort into Boomerang, and you can see just how much his employees all adore and respect him. I especially love how protective Cookie is of him, and at the same time, just how much Adam value Cookie's opinions. (A little bit off-topic here but can we please have a book about Cookie? PLEASE. She's a STAR!) We may have had only a few Adam-Cookie interactions, but I love that August shone light on such a heartwarming boss-employee relationship. It also shows us a facet of Adam's character that we didn't get to see much in
Boomerang
- his warm, nurturing, and caring side.
I mentioned earlier that Alison's character development was my favorite part of
Rebound
, but the development of Alison and Adam's relationship is a close second. It was obvious from the first chapter that there is an intense attraction between the two, and as the story progresses, that there is something
more
brewing. However, despite this, Alison and Adam don't rush into anything. They take the time to actually get to know each other, and to find out if that something between them can turn into something
real
. I like that there were more in-depth conversations between the two than quick hook-ups - I don't know about you guys, but this made me believe that they were actually serious about each other. Moreover, I loved that the focus of
Rebound
was never on Alison and Adam's pasts, but rather how they willed each other to finally stand tall and move on.
All in all,
Rebound
made for a great second book in the
Boomerang
series. I actually liked this one better than I did
Boomerang
- I found it easier to connect with the characters, and while
Rebound
had more angst and the whole 'secret past' plot line, it didn't deter from my enjoyment while reading. It also introduced us to more supporting characters who I would love to read more about in the future, and it allowed us to discover more about the characters whom we already know. If you're looking for a fun NA read with a little bit of angst (but not too much!),
Rebound
is the book for you!
Rebound
is
now available in Fully Booked.
Rating: 4 Stars
I'm giving away 2 copies of
Rebound
, and as long as you live in the Philippines, you're eligible to join. Thank you so much to Fully Booked for sponsoring this giveaway!
a Rafflecopter giveaway