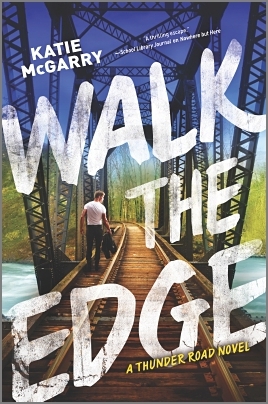 Title:
Walk the Edge (Thunder Road #2)
Author:
Katie McGarry
Publisher:
Harlequin TEEN
Source:
eARC for review
Release Date:
March 29, 2016
Smart. Responsible. That's seventeen-year-old Breanna's role in her large family, and heaven forbid she put a toe out of line. Until one night of shockingly un-Breanna-like behavior puts her into a vicious cyber-bully's line of fire—and brings fellow senior Thomas "Razor" Turner into her life.

Razor lives for the Reign of Terror motorcycle club, and good girls like Breanna just don't belong. But when he learns she's being blackmailed over a compromising picture of the two of them—a picture that turns one unexpected and beautiful moment into ugliness—he knows it's time to step outside the rules.

And so they make a pact: he'll help her track down her blackmailer, and in return she'll help him seek answers to the mystery that's haunted him—one that not even his club brothers have been willing to discuss. But the more time they spend together, the more their feelings grow. And suddenly they're both walking the edge of discovering who they really are, what they want, and where they're going from here
Wow. Wow wow wow. First thought after finishing
Walk the Edge
? I've forgotten just how good of a writer Katie McGarry is. Second thought?
Nowhere but Here
is a strong book and a great beginning of a series (and if you know me there's a good chance that I have raved about it to you), but
Walk the Edge
blows it completely out of the water. Yes, folks - it's THAT good. I myself was shocked at how quickly this book drew me in - it was such a quick read for me (mainly because I couldn't make myself stop no matter what), and I was able to finish it in one sitting. The words flowed, and it was so easy to lose myself in Breanna and Razor's story. Third thought? Heck, what did I expect? This IS Katie McGarry - author of Pushing the Limits - after all!
To sum it all up? This is a book that you need.
While reading
Nowhere but Here
, I always thought that we would get Chevy's story next, so color me surprised when I saw a sneak peek at Razor's story instead. Why is this, you may ask? Well, if you read
Nowhere but Here
, you would know that Razor has always been painted as young man who is very much troubled, and even a little bit unhinged. This was a character who has already experienced so much in life despite his young age, and he didn't seem like the heroes we always see in YA. I honestly didn't think that we would get the chance to explore his character; I thought McGarry would be content for him to remain in the background - an integral but small part of the series - but damn, I couldn't be more wrong. McGarry challenged herself and her writing in telling us a story about such a damaged character who is fifty shades of imperfect and who is beyond flawed... and kicked ass in doing so.
One of McGarry's strong suits has always been her unflinching portrayal of all sorts of filial relationships, and we get those in droves in
Walk the Edge
. Breanna, our female MC, is the middle child in a large family, and she has never felt at home with her parents and siblings. Her eldest sister treats her with thinly-veiled contempt, and she doesn't exactly have close relationships with the rest of her siblings either. Her parents already feel stretched thin with all that they have to do, and they're not exactly able to provide the emotional support that Breanna badly needs. It was difficult to read about Breanna's situation - you can't help but have a lump in you throat when you see how callously her siblings treat her, and how her parents seem to take her for granted. She can't count on their help and support, and all these was just so heartbreaking to read. What's even more sad about it all is that you know that Breanna's suggestion is not unique - this is a situation that a lot of people find or have found themselves in.
Meanwhile, our male MC, Razor, doesn't have the easiest of relationships with his father either. His mother passed away a few years ago, and the talk of the town is that she chose to take her own life because of how miserable she was. Razor's father seemingly starts a new relationship, and Razor doesn't stomach this is so easily either. Add in the fact that new evidence has recently come to light that Razor's mother may have been murdered by the rival motorcycle club, and shit basically hits the fan. Razor feels like his father is not honest enough with him, and as a result, their relationship suffers under the strain of the secrets of the past. Reading through Razor and his father's interactions was heartwrenching, to say the least. Here you have Razor who just wants his father to talk to him, and he can't even have that. McGarry did an amazing job in exploring the nooks and crannies of Breanna and Razor's relationships with their families, proving time and time again what a multi-faceted author she is.
I also
loved
how McGarry took her time in building and developing the romance between Breanna and Razor - before anything else, they are friends, and they don't lose that throughout the course of the book. When Breanna becomes the victim of blackmail and cyberbullying, it's Razor she leans on, and it's Razor she asks for help. Razor stands by Breanna when she most needs it, and he exerts his utmost effort in helping her. While yes, the attraction
was
there during their first meeting, the fact that everything came after was thoroughly explored and not rushed made you root for Breanna and Razor - at the end of the day you just want them to be happy! They sooo deserve to be happy!
All in all, I can't say it enough - I am blown away at how McGarry has outdone herself. I didn't think it would be possible for a book to even equal
Pushing the Limits
in my heart (I love Noah and Echo oh so much), but
Walk the Edge
has done just that. Not only has McGarry created two characters that will have captured your heart from the get go, she also tackled the concept of cyberbullying astoundingly and respectfully. I honestly can't wait to read the next book in the series!
Rating: 5 Stars
a Rafflecopter giveaway