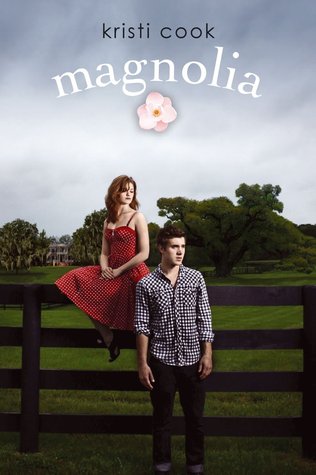 Title: Magnolia
Author: Kristi Cook
Release Date: August 5, 2014
Source: eARC from Edelweiss
Published by: Simon & Schuster
In Magnolia Branch, Mississippi, the Cafferty and Marsden families are southern royalty. Neighbors since the Civil War, the families have shared vacations, holidays, backyard barbecues, and the overwhelming desire to unite their two clans by marriage. So when a baby boy and girl were born to the families at the same time, the perfect opportunity seemed to have finally arrived.

Jemma Cafferty and Ryder Marsden have no intention of giving in to their parents' wishes. They're only seventeen, for goodness' sake, not to mention that one little problem: They hate each other! Jemma can't stand Ryder's nauseating golden-boy persona, and Ryder would like nothing better than to pretend stubborn Jemma doesn't exist.

But when a violent storm ravages Magnolia Branch, it unearths Jemma's and Ryder's true feelings for each other as the two discover that the line between love and hate may be thin enough to risk crossing over.
THOUGHTS:
When I got an invitation to join the blog tour for Magnolia, I jumped at the chance and immediately signed up. I mean, come on, this book is just right up my alley! Gorgeous cover? Check. Falls under the contemporary genre? Check. Main characters who grew up together? Check. And last but definitely not the least... A book that depicts a story of how hate blossoms into love? Consider me SOLD. All in all, I just KNEW that I was going to like Magnolia, and that this was just the light, fluffy read that I was looking for. Two hours later, after reading Magnolia, I was indeed smiling so hard that my face actually hurt. But you know what? I wasn't smiling because I was happy about the giggle-inducing parts (and there were some good ones, believe me) - instead, I was grinning like a maniac because of how realistic this book was and how relateable its main characters are! Those, I believe, are the true selling points of the book!
I loved many,
many
things about
Magnolia
, but first and foremost, let me go ahead and talk about how Cook developed the relationship between the main characters, Jemma and Ryder.You see, despite being born onto parents who are best friends and who are desperate to unite the two families together, Jemma and Ryder do not like each other. It's not the kind of love/hate relationship that a boy and a girl who have grown up together have either - Jemma abhors Ryder, and Ryder, having no idea what he could have done to deserve such hatred from Jemma, isn't exactly that keen on Jenna now as well. Writing about the shift from hate and dislike to respect and ultimately love, and then making it believable and not the least bit rushed is not the easiest task for authors, but Cook did it so amazingly well through the deep and meaningful conversations the two main characters had all throughout the book. Jemma and Ryder engaged in multiple discussions about both the past and the future, including just what is that triggered the downfall of their relationship all those years ago, as well as what they hope to happen for themselves in the coming years. During these conversations, you could sense the gradual shift in how Jemma and Ryder perceived each other - there was dislike, then wariness, and then there was overwhelming trust and the promise of something more. I like how Cook took her time in developing the feelings that these two took a while in acknowledging and because of that, I actually believe that what Jemma and Ryder have is
real.
I also like how
Magnolia
touched upon how change is constant, and that we should never take things for granted. Despite Jemma and Ryder's status in life, that didn't exclude them from the wrath of both mother nature and the threat of having someone close to them possibly lose his or her life prematurely, and I love how Cook took her time in elaborating on how these two instances affected the two. Between the raging storm making her wrath known in the town Jemma and Ryder have spent their whole life in and Jemma's sister's possibly life-threatening surgery, everything that the two have known their whole life is up in the air. As someone who isn't exactly fond of having the rug pulled under my feet, the way both characters reacted to these sudden and unexpected changes was very familiar and realistic. Even though they aren't exactly the best of friends, they acknowledged that they had to push aside all their differences and force themselves to work together. I never raised a brow at their actions and I never doubted what they felt, and believe me when I say that at one point or another, you have gone through what Jemma and Ryder are currently experiencing. As I have said earlier, this is one of the factors that makes
Magnolia
a gem.
Moreover, another thing that readers can relate to are how conflicted Jemma and Ryder are about their hopes and dreams for the future. All their lives, their mothers have made it clear what they should do and they've always followed what was asked of them. Things have changed, however, now that Jemma and Ryder are in their senior year of high school and they're slowly coming in to the realization that they don't want to just live out their mothers' dreams - they want to go out to the world and be who
they
want to be. We've all been there, haven't we? Every single one of us, despite our parents' good intentions, have all felt that we deserve to make our own decisions, most especially if they're about our future. I saw myself in these characters - the way Cook portrayed Jemma and Ryder's fears reminded me of how I feel every time I have to stand up for myself and talk about what
I
want. Seeing a little bit of myself in the characters I read about is just so refreshing and something I cannot get enough of.
All in all,
Magnolia
isn't the book that I expected it to be, but that's a good thing. It was light enough for it to be a quick read, but at the same time, it's a book that resonates within you - it reminds you what is it that's worth fighting for. If you're looking for something that will make you both smile wistfully at its telling of a beautiful romance and
then
ponder about the direction that your life is taking, this is the book for you.
Rating: 4 Stars